This marks the third time in four years that the New York Giants started off the season 1-7.  The lone exception? Last year, when they managed to compile a 2-6 record over their first 8-games.
Most people will take one glance at their record this season and automatically assume the worst.
As of late, losing has become commonplace.  Feeling shamefaced after years of losing and being sold wolf-tickets by a fraudulent General Manager who feels less than compelled to be honest with his teams' fan base.
Some fans may even feel surfeited with the organization at this point. Devoid of energy after having it sapped by a team that has been the worst in the NFL over almost the last half-decade.
This has definitely been a test to the true fanhood of a lot of Giants fans and there have certainly been casualties along the way.
Here's a breakdown of the first half of the season and an evaluation of what to expect moving forward.
Offense:
Offensive Line:
Beginning with the big boys upfront, the 'Hog-Mollies' if you will- where the New York Giants had three new starters to begin the season.  Among them, was rookie left tackle, Andrew Thomas.  Thomas was the Giants 2020 first-round pick, and one of three rookie offensive lineman taken by the team in this past year's draft.
While much has been made of Thomas's early struggles in pass protection, there have been improvements as of late.
In what will surely be a recurring theme throughout this article- the shortened training camp compiled with a lack of preseason games has proven to be grievously detrimental to the development of the younger players.
Thomas falls under that umbrella.
At times during the first 4-games of his career, he went head-to-head with five different Pro Bowlers, including two All-Pros. (T.J. Watt, Bud Dupree, Khalil Mack, Robert Quinn, Aaron Donald)
As expected, Thomas had his share of struggles and was even second in the league in pressures allowed.  That should be no surprise for a rookie trying to acclimate to the speed of the game.  A rookie who is also learning a new offensive scheme with limited practice time at that.
Those are some of the very best pass rushers in the game today.  Of this generation even.  So to expect a rookie with little to no game experience to go out there and not struggle would be extremely unrealistic.
Thomas, along with the rest of the offensive line, has continued to gel and improve as the season has progressed.  As his confidence continues to rebuild, Thomas's play on the field will improve as well.  Holding a pass-rusher at bay, like the way he did with Jason Pierre-Paul, could be just the thing to round him back into form.
Will Hernandez has caught a lot of flak this season. Even though he led the league in run block win rate before going on the Covid list.
Rookie guard Shane Lemieux received his first career start this past week in his place.  While he did receive a remarkably low grade from PFF, their word is far from gospel in the NFL world.  Ultimately, it's the tape that tells the true story, and Lemieux passed the eye-test.
While lining up across Ndamukong Suh most of the night, Lemieux committed zero penalties while opening holes for Giants running backs.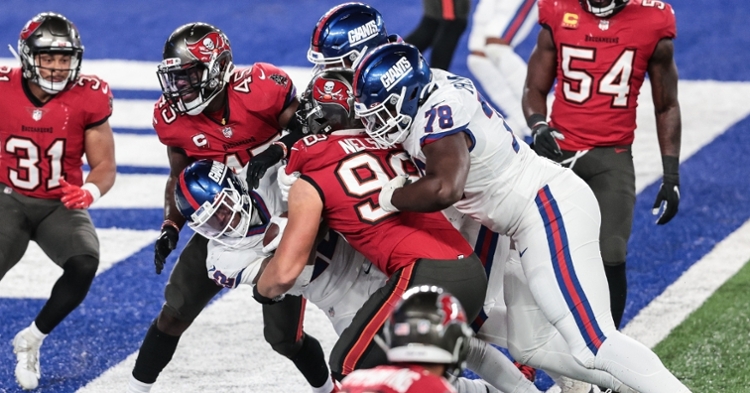 Lemieux and Thomas opened a hole that allowed for Wayne Gallman's 2-yard touchdown run late in the second quarter. Both driving their defenders off the ball, enabling Gallman to score.  Lemieux was awarded the ball for the all-important spike afterward.  Serving as kind of an exclamation point on the drive.
ALL ABOARD 🚂

🔥 @waynegallman #TBvsNYG on ESPNpic.twitter.com/sv3CSKNEZ6

— Clemson Football (@ClemsonFB) November 3, 2020
Joe Judge has vowed to continue both guard and tackle rotations throughout the remainder of the year.  That means Lemieux, along with another extremely promising rookie, Matt Peart, will continue to see snaps as the season moves along.
Peart has really turned heads thus far when receiving playing time. He has posted extremely high grades every time out. Thus far, he looks to be the long-term answer at one of the tackle positions.
Nick Gates is a converted center prospect who didn't have the luxury of a full offseason to learn his new position.  He had a rough start after going against some of the top interior linemen in the game.  Gates has since picked up his play and steadily improved as the season has gone on.
After much trial and error, it would appear as though the New York Giants may have finally figured it out.
They may have very well found three long-term starters along the offensive line in the 2020 draft.
While the overall line play hasn't been great through the mid-way point, this is a unit that is on the rise.  It appears the Giants may finally have the right pieces in place to complete this units' rebuild.  Now they just need more refinement and a little more time to gel together.
The New York Giants offensive line is improving and definitely trending upwards.
Mid-Season Evaluation Grade: C
Second-Half Projection Grade: B
Playmakers
To this point in the season, the New York Giants offense has looked like two completely different teams.  They were one of only four teams who came into 2020 with a new head coach, plus new offensive and defensive coordinators.
Players were asked to learn information in just a few weeks that sometimes takes other players a full year to grasp. Young players and rookies were, especially behind the 8-ball.  Virtual meetings and less practice time drastically limited the players' ability to digest and incorporate new material.  The lack of preseason games prohibited young players from the reps necessary to assimilate to the speed of the game. Forcing them into the nonviable situation of playing their first game reps in a real game scenario.
New OC Jason Garrett had virtually no time to install his offense and see how his players appeared in it. There was naturally going to be an adjustment period here.  The first 4-games basically served as the New York Giants' pre-season in terms of experience within the new system and it showed.
Earlier this year, New York went on a 3-game streak, (End of Week 2 through Week 4), where they failed to even score a touchdown.  They failed to reach 300 total yards in a game over the first quarter of the season.  Managing a pedestrian 56.6 rush yards per game while losing by an average of just over 12 points per game. Plain and simple, this offense was a mess.
The offense showed vast improvements over the second quarter of the year.
Now the players have enough reps in the new system to allow themselves to play a little faster.  In turn, this enabled Jason Garrett to open up the playbook and be more versatile with his play calls. And it shows in the numbers.
Over the second quarter of the season, the New York Giants saw their numbers improve across the board.  They Averaged almost 50 more yards per game and 123.6 rushing yards per game.  Improving their gameplay led to their lone win of the season and lowering the average margin of defeat over their latest three losses to only two points per game. Three losses in which they had a lead in the 4th quarter.
The Giants have shown flashes of a quality offense.  Putting together a balanced attack despite being without their top playmaker, Saquon Barkley. Wayne Gallman and Devonta Freeman have carried the load in his absence.
Sterling Shepard has shown tremendous value to the offense since returning from an ankle injury.  Making key catches and continuing to be a security blanket for the quarterback, Daniel Jones.
Evan Engram undoubtedly found himself in the doghouse of most Giants fans following his crucial drops in the Eagles game.  While he may have vastly under-performed thus far, there is little doubt about his physical ability as a player. His athleticism and ability to be a mismatch at all levels for opposing defenses are traits that can't be taught.
Also, 2019 5th round-pick, Darius Slayton, continues to prove himself as a playmaker.  Slayton leads the team in receiving yards (485) and touchdowns (3).  He is a favorite target of Daniel Jones and should continue to see plenty of opportunities moving forward.
The Giants certainly have a solid group of weapons.  They could really benefit from the addition of another playmaker to pair opposite Darius Slayton. In all likelihood, this will be one of their higher priorities in the upcoming offseason. Should they be able to do that, they could be one of the more formidable offenses in the league.
But for now, the Giants will have to make do with what they have.  Luckily for them, what they have is pretty good.  And they only stand to get better as they continue to improve and get comfortable in their new system.
After a rocky start, the Giants seem to be finding their stride as the season progresses.  The numbers reflect as much, as their stats have improved in all offensive categories over the past four games. Players have clearly become more comfortable with their roles within the offense, and it showed in Jason Garrett's more aggressive play-calling.
The New York Giants should continue to improve and get better each week.
Mid-Season Evaluation Grade: C
Second-Half Projection Grade: B
Quarterback
Daniel Jones has had his share of struggles this season.  Unfortunately for him, many are rushing to high expectations for a quarterback in his second season with his second set of coaches. That was not the situation for the previous quarterback, Eli Manning.
Manning started seven games during his rookie year.  He managed a 48% completion percentage, 7 touchdowns and 9 interceptions, and a measly 1043 yards.  (115 yards per game)
Now compare that to Daniel Jones's rookie season.  He started 12 games, had a 62% completion percentage, 24 touchdowns, and 12 interceptions with 3027 yards. (232 yards per game)
It is worth noting that Peyton Manning has the record for interceptions in a rookie season with 28. He amassed 81Int over his first 4-seasons.
In John Elway's 3rd season, he threw 22 touchdowns and 23 interceptions, and in his 6th year, he managed 17 touchdowns and 19 interceptions. Elway didn't win a Super Bowl until his final two seasons in the league.
All three of these examples are First-Ballot Hall of Fame Quarterbacks. The difference is they were all given time to develop and go through the necessary growing pains.
The point here is to give the kid some time to develop.  There are going to be growing pains with 99.9% of NFL quarterbacks.
Including his senior year at Duke, he's had three different head coaches with three different coordinators over the past 3-years.  It's not easy to learn a new system every year.
Learning third offensive system in 3-years
Had to learn through zoom meetings for the first couple of months this year, which only further complicates things and slows the learning curve.
By the time they were able to meet and physically begin learning the new system, they were already a few months behind schedule.
They're practicing less this year with no preseason games.
The amount of time he would normally have to learn a new system is cut in half, if not more.
Expectations are so unrealistic for this kid right now.  There hasn't been a quarterback in history who's had two different head coaches and offensive coordinators in their first 2-seasons and succeeded. Meanwhile, Jones is doing it on basically half an offseason.
Over his first five starts last year, Jones amassed six touchdowns, seven interceptions, and averaged 225 yards per game. Over the final seven starts of the season, he had 18 touchdowns and five interceptions with 276 passing yards per game. But he had to start all over again this year.
Sure, some of these turnovers are frustrating and make you scratch your head. And clearly, he hasn't lit the world on fire so far this season.  But why would you expect otherwise, considering the litany of disadvantages that have been stacked against him this year?
Through his first 21 games, he has 31 touchdowns and 21 interceptions.  He's shown every characteristic necessary to win in this league that you look for in a young signal-caller.  The turnovers will continue to decrease over time as he becomes more assimilated within the offensive system.
Daniel Jones should have a much improved second half, similar to the way he did last year.  Hopefully, he won't have another new offensive coordinator next year so he can actually build on his progress as opposed to starting all over again.
Mid-Season Evaluation Grade: D+
Second-Half Projection Grade: B+
Defense:
The New York Giants defense has been unexpectedly solid so far this year.  They finished near the bottom of the league in nearly every category last year apart from the rushing defense.  The one thing the Giants could do last year is stop the run. That has carried over to this year, as well as much more.
Through the first 8-games of the 2020 season, the Giants rank top ten in:
Rushing Yards Allowed Per Game- 8th
Rushing Yards Per Attempt-4th
Passes Defensed- 7th
QB Knockdown's- 4th
Sacks- 7th
QB Pressures- 8th
QB Hits- 5th
Tackles for Loss- 6th
DADOT- 9th (Average Depth of Target-Defender)
A far cry from the defense they ran out there in 2019.
Key additions Blake Martinez and James Bradberry have stood out and are among the very best in the league at their respective positions.  While other free agents such as Kyler Fackrell and Logan Ryan have also largely impacted the defense.
All that practice on the fundamentals has really paid off thus far.
The Giants have been excellent at making their initial tackle and not allowing for extra yards.  Ranking 6th in lowest average YAC per game, while also having the 5th least missed tackles in the league. They've displayed excellent discipline thus far as well, ranking 4th lowest in penalties and penalty yards.
Big Blue has also shown a bend but doesn't break mentality thus far this season.  As their 59.4%, Red Zone TD Allowed Percentage ranks 7th best in the league.
Much like in 2019, the run defense and defensive line have been the bread and butter of this defense.  They rank 8th in rush yards allowed per game and 4th in yards per attempt.
The Giants starting front three all rank in the Top-15 in the league for their positions. Dalvin Tomlinson, Leonard Williams, and Dexter Lawrence also rank among the top-12 in defensive line stops as well.
Tomlinson ranks 2nd in the league with 20 stops.  Just one behind the league leader, Stephon Tuitt.
The New York Giants' defense has been a pleasant surprise.  They have been very successful this year and will look to continue building on that in the second half.
This is a unit on the rise.  They should continue trending upward with the more experience they get in Pat Graham's new system.  The more comfortable they become within the system, the faster they will be able to play.
Mid-Season Evaluation Grade: B
Second-Half Projection Grade: B+
Wrap Up:
Considering the state of the franchise coming into this season, it's hard to say that the New York Giants have underperformed.
Coming into the year, they were just one of four teams to hire a new head coach along with offensive and defensive coordinators.  This would be an onerous challenge on its own, let alone with a second-year quarterback during a pandemic shortened offseason.
Nonetheless, the Giants find themselves 1-7 and in the cellar of the lowly NFC East division.  They are miraculously still within striking distance to win the division should they string together a couple of wins.
Despite being 1-7, they've been competitive in every game except one, and have been improving on a weekly basis.  They've suffered only one loss greater than 10-points on the season, with four of their losses coming within four points or less.
The biggest difference between this year's team and the teams who suffered disastrous seasons in the past is the way they compete.  Joe Judge clearly has these guys playing hard for him each and every week.
Prior to the season, John Mara said that he wasn't after a set number of wins, he just wanted to see the team compete and show improvement. That is exactly what we see when we watch this year's Giants team.
For the first time in a long time, the future actually looks bright in New York.
Mid-Season Evaluation Grade: C
Second-Half Projection Grade: B